NBI Clearance, what is it?
National Bureau of Investigation (NBI) is a document stating your standing in the community for an assurance you have no criminal record in the country. It is one of a few requirements for applying to a job, registering a business, working overseas, or studying abroad. Employers are taking this as a safety measure to the company and to the country where you plan to transfer.
The NBI clearance presents your picture, name, address, birthplace, issuance date, expiry, and reason for request. This document's validity takes about six (6) months to one (1) year. The reason why its effect lasts only for a short time is to show the person's consistency of record.
In these past years, applying for NBI clearance has always been a challenge. You need to line up early in the morning to avoid getting in the last slot. It took hours to finish your application. The good news is that the NBI office's system stepped up and shown improvement. Applying online for setting up appointment is now possible. Finally, you don't have to go through the hassle of lining up, only to find out you reach the office's cut-off time.
Why Do I need an NBI Clearance?
NBI Clearance is more than your temporary identification card. It plays a significant role in each Filipino. Every country takes this document as the citizen's good moral standing around the vicinity. It shows proof that you have zero criminal liabilities. In the past two years, the NBI office's memorandum increased, and you can use the clearance for various purposes.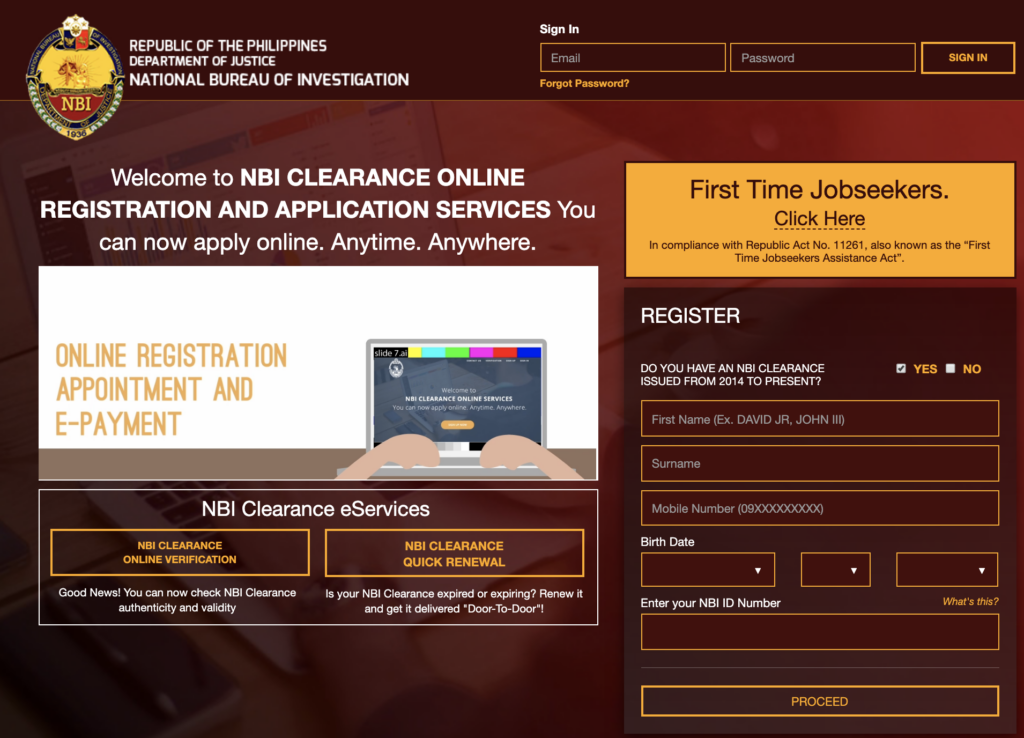 It serves as a supporting ID or document
If you need an extra identification card, it can help you to suffice your requirements. You can use it for businesses, SSS membership, applying for marriage license, driver's license, firearm license, and professional license. These are the primary departments that need this type of document. Moreover, you can also use it for other transactions for a year. Remember, though, NBI clearance can only serve as a supporting document, and not as your primary ID.
You can use it to update your legal documents
Legal documents, such as birth certificate and marriage certificate, requires NBI clearance. If you need to apply for passport issuance or to update your existing ID, you can present it for better proof of your identity. For example, to make some error changes on your birth or marriage certificate, this legal document is one of the essential identification cards asked by the office.
It secures your VISA application
Without NBI clearance, it impossible to apply for your VISA. It is the primary requirement asked by the office. Countries like the USA, China, and Australia require VISA for Philippine passport holders. Even countries where Filipinos can travel freely need to secure their identity by presenting it to the immigration department.
NBI Clearance is essential for applying for residency in other countries
This single document has importance in your overall traveling abroad application. If you want to apply as seafarers, you need this one as well. It is to prove you have no outstanding criminal records in the country, bringing a good reputation when you transfer to other destinations.
Local jobs ask for NBI Clearance
One of the crucial requirements for applying to local employment is the NBI Clearance. As a worker, you need to have excellent standing as a Filipino citizen. It serves as the basis of your trustworthiness and reliability when you start your work. When you apply for a job, and the hiring management accepts you, your reputation is also your employer's reputation.
How To Apply NBI Clearance Online?
Booking an appointment for applying NBI clearance online is now hassle-free. The department's new system brought convenience to those who are busy at work or everyday activities. We've prepared the easy-peasy guide for you.
The previous instructions for applying to NBI clearance were filling out a form, data checking, payment processing, encoding, photo and fingerprint scanning, and clearance printing. Going through these steps made it harder to finish the application. Good thing, the processing has changed bringing more convenience to all Filipinos. The following is the new step-by-step process to complete your request.
Visit https://www.nbi-clearance.com/ to find the online application, but before that, you need to sign up or log in to your account.
Fill out the necessary information at the right side box to register your account. If you have an existing account, just fill in your email and password at the upper right bottom.
After creating your account, you need to present your valid ID before scheduling your appointment. Here are the valid IDs you can use:


Previous NBI Clearance, if you have one
Senior Citizen Card
NSO Authenticated Birth Certificate
Tax Identification Number (TIN) ID
Philhealth
Alien Certificate of Registration
School ID
GSIS UMID
Driver's License
Postal ID
Passport
PRC License
SSS ID
Voter's ID
As an alternative, you can present your birth certificate.
 

Input the details needed – the place where your appointment will take place and the purpose of the NBI clearance request. It would be the basis of your processing payment. Make sure that all the written details are correct. It will appear on the physical document.
Pay online.
Payment Options for Online Transaction
Now that it is possible to book an appointment for NBI clearance processing, you'll find a variety of gateways options to use on your transaction. If you've been wondering about the platforms you can use, we will cite them one-by-one.
Deposit money over the counter
Before depositing your payment, you have to input the reference number coming from the NBI clearance website. Each bank has its deposit fee. BPI Cash deposit is worth P25. BPI Bills Payment charges additional P50. If you want free deposit fee, then go for Metrobank and Unionbank instead.
Bayad Center Outlets
Some of these are Cebuana Lhuiller, SM Savemore, LBC, Robinsons, eBiz, Petnet, Landmark, Waltermart, Isetann, 2GO Express, Sta. Lucia East Mall, USSC, Citystate Bank, Luzon Development Bank, Go Beyond Expectation Remittance Co., Sinag Pawnshop, and more. You can visit the NBI Clearance website for more information.
Online Banking
The online banks accepting payment for NBI clearance are Dragonpay Prepaid Credits, BDO Internet Banking, BPI ExpressOnline/Mobile (Fund Transfer), BDO Internet Banking, RCBC Online Banking, Metrobank Direct, Unionbank Internet Banking, and UCPB Connect.
Mobile Payment
Gcash and Coins.ph are also accepting NBI Clearance payment. Additional charges may incur. Make sure you have extra money on your wallet before paying. You can click the 'Pay Bills' section > Type of Bill > Government > NBI Clearance. Fill in the reference number and pay the exact amount. It takes three days before NBI clearance department receives the payment. Get ready to show up at your appointment.
MultiPay
Register your account at MultiPay and cash-in money to send payment. MultiPay Wallet Account should be available before performing the transaction.
ECPay
ECPay is available at Express Pay Inc., RD Pawnshop, H Lhuillier Pawnshop, Auto Top-Up Ventures Inc., Viaexpress Inc., Petron Corporation, San Mig Food Avenue, Global Access Financial Services, RFC, Shopwise Wellcome, Metro Gaisano, Prince Warehouse Club, Inc., NCCC – LTS Supermarkets, Enterprise Bank Inc., and Magic Appliance Center, Inc.
That was the step-by-step instruction to Apply NBI Clearance. If you have any questions, you can visit the NBI Clearance website directly, or let us know about your concerns through our contact page.
Also read our guide on How to Get a TIN Number Online and How To Apply NBI Clearance Online by clicking the links.