Who doesn't love unlimited music? But the monthly subscription to popular streaming services isn't affordable for many. Some free alternatives offer music but with ads. This means you listen to third-party advertisements once every two or three songs. Though the music is free, the experience is interrupted and not enjoyable.  Today, we bring you the Snaptube music and video downloader app. This app allows you to download your music so you can listen to it even offline. Want to learn how it works? Read on. 
Part 1: Major Features of Snaptube MP3 Music Downloader
Snaptube is a free yet powerful music downloader app that lets you download any videos or songs from other popular sites such as Instagram, Soundcloud, and more.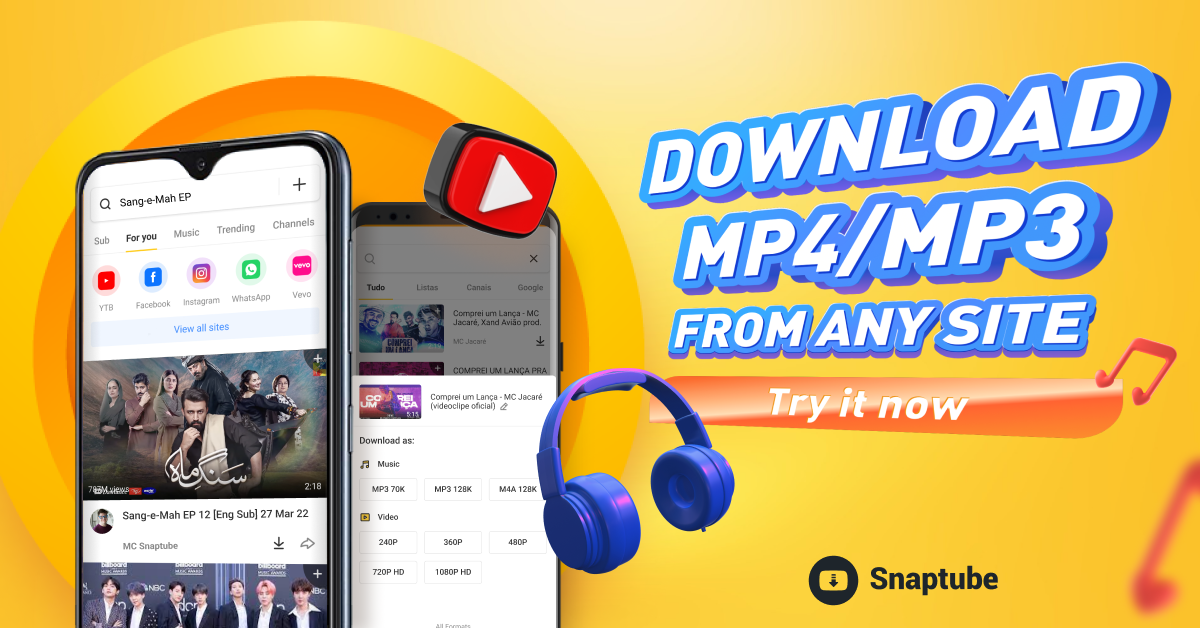 What makes Snaptube stand out is its free MP3/MP4 music downloads.  When downloading, the app offers different formats. You can download the entire music video or save only the MP3 part on your phone.  Additionally, Snaptube has other great features, such as:
HD Music Download: You can select different bit rates during MP3 downloading. No more noisy songs or old-sounding audios, just pure lossless music with Snaptube.
Large Music Library: Snaptube is connected to more than 50 platforms. This includes popular ones such as Dailymotion and Soundcloud. Through a single app, you can access the music and video library of all these platforms. You can download any song or audio, even if it is part of a TV show or anime. And if you are looking for something new, browse through popular music lists and songs from your favorite genre through the music tab in the app. 
Easy Download: The MP3 music downloader app doesn't ask for your email ID, phone number, or any other personal information. You just need to install the app and search for your favorite songs. Then download it.  
Secure: Snaptube music and video downloader is safe to download on your phone and is security-certified by top security companies. You don't have to worry about viruses, even when downloading multiple files. 
Simply put, Snaptube is the best music downloader with all these features. Ready to learn how to download songs using Snaptube? Follow these steps.
Part 2: How To Download Music Using Snaptube?
The first step to downloading songs from the free music downloader is installing the app itself. The apk file of the app is available on its website and through some app downloaders such as Uptodown, Aptoide, App Gallery, and Get Apps.
Kindly note some devices do not allow third-party app downloads. In such cases, you need to go to Settings > Security > and allow downloads from third-party sources.
After that, launch the Snaptube app on your phone. You can download songs through Snaptube using two methods.
Method 1: Through Direct Search
In the search bar, type the name of the song you want to download.
Alternatively, you can search for keywords like "new Bollywood songs" or "best Korean music albums."
The music download app will look through its library and display the best matching results. 
Click on any result to open it in the app. Tap the download icon at the bottom of the screen and click on MP3 format. 
The app will extract only the MP3 and download it on your device.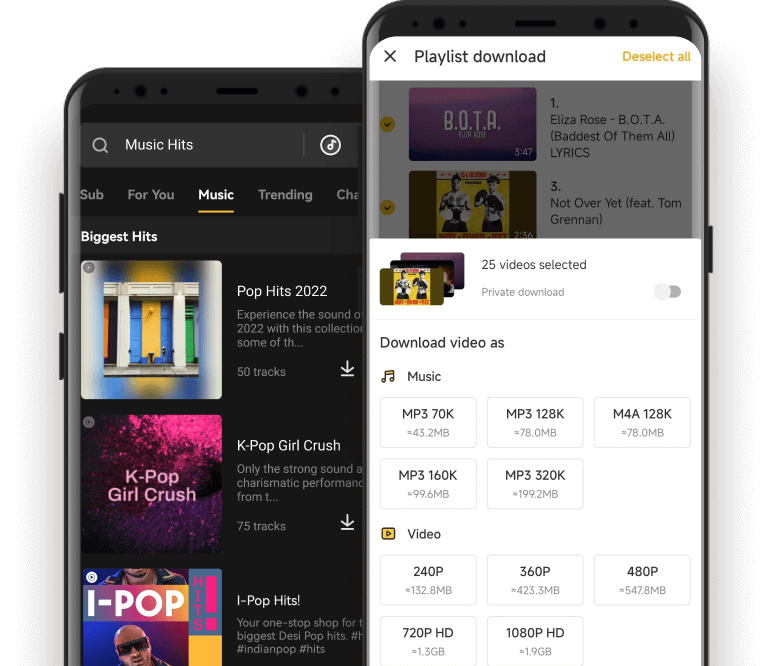 Method 2: Through Video Link
If you want to download a song from any particular video, then this method is suitable for you.
Open the video from which you want to extract the MP3. This can be from any platform, such as Facebook or Vevo.
On top of the video, you will find three dots that give access to more options. Click on the three dots and select the "Copy link" option.
Launch the Snaptube app and paste the copied link into the search bar.
The app will display the particular video. You can click on it to open it within the app.
To display the format options, click on the download button at the bottom.
Select the MP3 format to extract the song and download it on your device.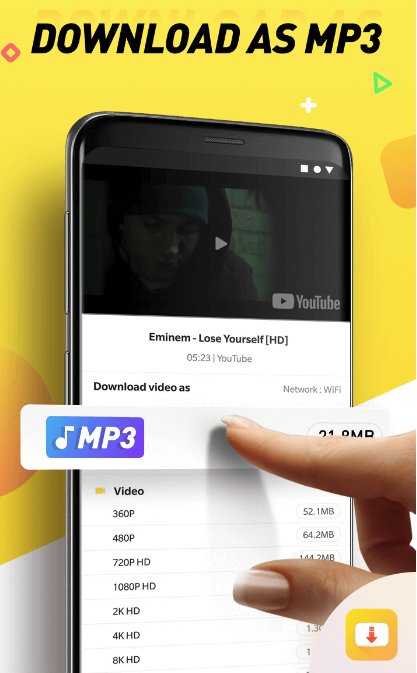 You can use either of the two methods to download any number of songs on your device using the Snaptube MP3 music downloader. 
Enjoy High-Quality Music With Snaptube
If you are a music lover, you don't need to shell out a lot of money to get unlimited music through premium apps. Just download Snaptube and enjoy music uninterrupted, without any cost.
Part 3: FAQs About Music Downloading With Snaptube
Q: Is Snaptube the best for downloading music?
A: Snaptube is one of the best apps for downloading high-quality music. The app has a vast music library, gives unlimited downloads, and is safe for your device. You can browse songs through genre, singers, or albums and download any music that you like. Besides music, you can also use Snaptube to download videos, movies, and dramas. 
Q: Which bitrates and formats are supported by Snaptube?
A: Snaptube supports all formats, such as MP3, MP4, and M4A. It lets you download music and video of any quality from 144p to 4K HD.